Attorneys
David Wadsworth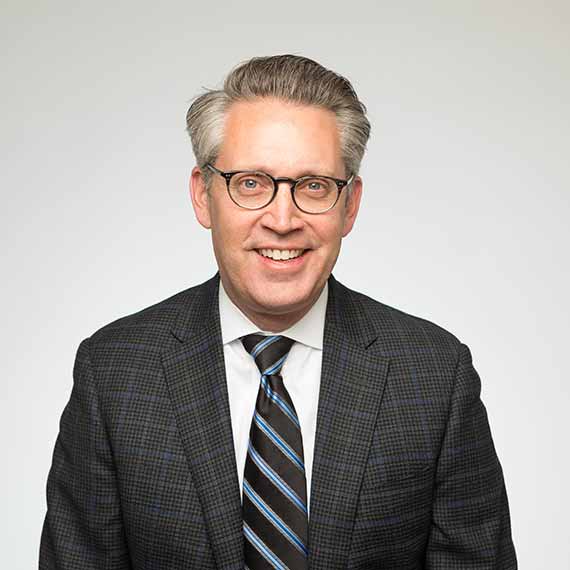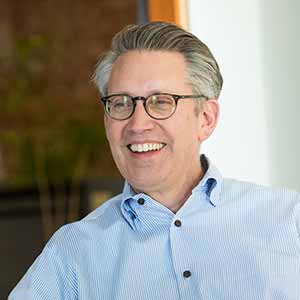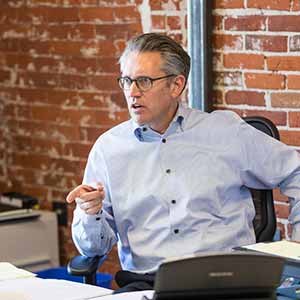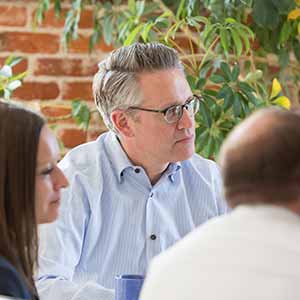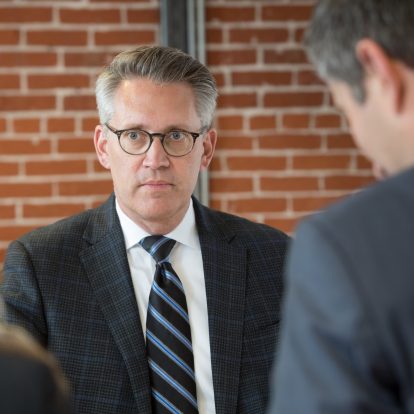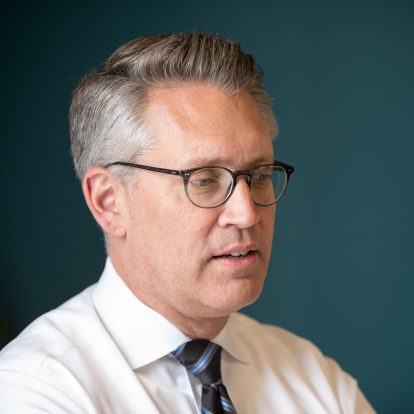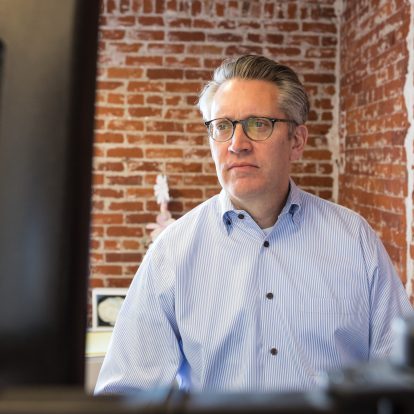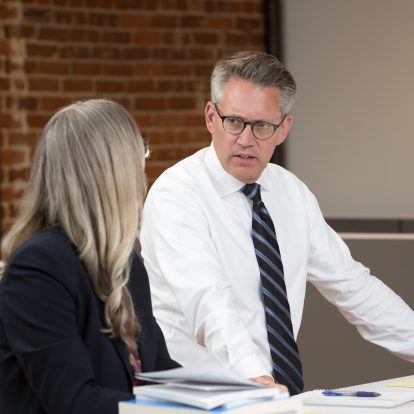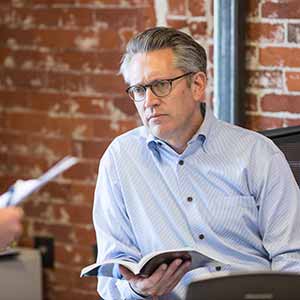 Partner
Dave concentrates in the area of bankruptcy law, with a focus on commercial matters. He joined the firm in 2003 when it was known as Sender & Wasserman. Dave became an equity partner in 2008 and a named partner in 2012. Dave has been a chapter 7 panel trustee since 2009 and in that capacity has administered thousands of chapter 7 bankruptcy cases, monitoring abuse and liquidating assets for creditors. Dave has also been selected to act as a plan trustee and a chapter 11 trustee in multiple cases.
Dave has a wealth of experience in nearly every facet of bankruptcy law, from complex commercial chapter 11 reorganizations to more straightforward consumer chapter 7 issues. Dave has prosecuted and defended hundreds of adversary proceedings and taken many of those matters to trial. Dave has also developed a substantial appellate practice and has argued numerous cases before the Tenth Circuit Court of Appeals.
Dave represents corporate chapter 11 debtors in possession in matters ranging from simple liquidations to complex reorganizations. Dave has also represented municipalities in chapter 9 cases. He has provided counsel in all facets of reorganizations, from pre-filing preparation through plan confirmation and including pre-packaged filings.
Dave represents chapter 7 trustees in cases that run the gamut from single-asset recoveries to complex, multi-million dollar liquidations.  He has represented trustees in preference and fraudulent transfer avoidance and recovery actions, asset sales, objections to claims and exemptions, discharge and dischargeability litigation, relief from stay matters, property turnover disputes and enforcement actions against bankruptcy petition preparers.  Dave also represents creditors and debtors in both prosecuting and defending similar types of contests. In chapter 7 and chapter 11 cases, he represents unsecured, secured and priority creditors, as well as consumer and non-consumer chapter 7 debtors.
The scope of Dave's practice is illustrated by the following representative cases:
In September 2021, Dave successfully obtained a reversal in the Tenth Circuit Court of Appeals of bankruptcy court and BAP orders that erroneously applied Colorado real property law regarding "wild deeds."  The reversal was especially important because the lower court rulings upset more than 100 years of established Colorado law and may have wreaked havoc on the ability to insure title in the state if not corrected.
Dave was recently lead counsel for the debtor in one of the very few pre-packaged chapter 11 cases filed in Colorado in the last 25 years. Dave and his team successfully negotiated plan approvals prior to filing the case and obtained confirmation of the Debtor's plan just 28 days after the case was filed.
Dave represented a metropolitan district in obtaining confirmation of a plan for the adjustment of debts in a chapter 9 municipal bankruptcy case. This was one of only two chapter 9 cases filed in Colorado since 2000 (Dave was also debtor's counsel in the other case) and the only one in which a plan was confirmed.
Dave was lead counsel for a Colorado business debtor in a chapter 11 case filed in response to a spurious class action complaint that had been brought in federal court in another state. In the class action case, the plaintiff asserted tens of millions of dollars in statutory punitive damages, a figure that would have put Dave's client out of business several times over. In the chapter 11 case, Dave and his team successfully fought off the class plaintiff's efforts to continue prosecuting the class action by arguing that the disputed class claims would be better resolved in the bankruptcy case. The debtor then provided notice of the bankruptcy to thousands of potential claimants and not a single claim was filed. With the help of Dave and his team, the company saved its business at a fraction of the cost it would have incurred in defending the class action and paid no money to the class plaintiffs or their attorneys.
Dave was co-counsel for a real estate developer in a chapter 11 reorganization case. Following a hotly contested, six-day confirmation hearing and over the vigorous objections of various bondholders, the bankruptcy court confirmed the debtor's plan. The plan enabled the developer to shed more than $30 million in pre-petition bank debt, prevented numerous tax lien sales from going forward, extended property tax payment deadlines, and substantially reduced bond obligations. The plan was successfully consummated and the developer remains in control of the project.
Dave represented a creditor in successfully challenging a chapter 11 debtor's plan confirmation efforts. With Dave's assistance, his client filed and obtained confirmation of a competing plan that enabled the creditor to purchase the debtor's assets and provide a substantial return to other creditors.
Dave was lead counsel for the corporate debtor in a chapter 11 case in which the debtor and certain of its owners were able to fend off challenges to whether the company had the authority to file its case.  With Dave's assistance, the company was able to confirm a plan that preserved the value of its intellectual property interests, resolved competing claims to the assets from a dissenting owner, paid all debt claims in full, and resulted in a substantial return to the debtor's owners.
Dave represented a chapter 11 debtor in successfully unwinding a real property auction the debtor contended was fraudulent. With Dave's assistance, the debtor settled all claims with the auction buyer in exchange for returning the buyer its earnest money and found a new buyer for the property at a fair market value that exceeded the high auction bid by almost 25%. As a result of these efforts, all debts were paid in full and the debtor's owners received a dividend of approximately $1 million. This success was achieved prior to proposing a plan and enabled the debtor to dismiss the case without have to incur the costs, expense and delay of the plan confirmation process.
Dave was lead counsel for a chapter 7 trustee appointed to unwind a real property Ponzi scheme in central Colorado involving disputed liens and disputed ownership of more than 40 residential properties. When the bankruptcy case was filed, there had been no formal adjudication of a Ponzi scheme, mortgages were not being paid, improvements to the properties had fallen into disrepair, and title to the properties were hopelessly unmarketable. Dave devised and implemented a strategy for the expedited sale of the properties that preserved value and permanently resolved all title issues. The most remarkable aspect of the strategy's implementation was the ability of Dave and his team to resolve all disputed lien and ownership issues by consent, without ever having to take the Ponzi issue to trial.
Dave was lead counsel for a chapter 7 trustee appointed to administer the bankruptcy estate of a failed for-profit college. The college operated multiple campuses in multiple states. Dave successfully coordinated the difficult task of swiftly liquidating the debtor's assets at the various campus locations, investigating the debtor's pre-petition acts, and overseeing the substantial preference and other litigation claims arising in the case.
Dave obtained summary judgment for an individual client accused by a bankruptcy trustee of receiving a fraudulent transfer in excess of $1 million. By achieving the victory through summary judgment—which is quite rare in fraudulent transfer cases—the client not only was spared liability, but also saved the substantial fees that would have been incurred if the matter was litigated through trial.
In a recent pro bono case, Dave successfully prosecuted a motion to dismiss a frivolous nondischargeability complaint brought against an elderly client and thereby obtained a swift resolution of the issue.
Dave has been sole or lead counsel in three separate trust-busting cases in which he represented chapter 7 trustees in their efforts to avoid or disregard "sham trusts" used to improperly shield assets from creditors. One of these cases resulted in numerous published appellate decisions.
Dave was lead counsel in a case in which a chapter 7 debtor obtained a judgment discharging approximately $200,000 in student loan debt.
Dave successfully represented the beneficiary of a multi-million dollar rollover IRA in obtaining a determination, after trial, that the entire IRA was exempt and thereby protecting the asset from the reach of the debtor's creditors.
In his capacity as chapter 7 trustee, Dave represented himself in two successful appeals to the Tenth Circuit Court of Appeals in which the court adopted Dave's arguments. In the first case, the court ruled that, for purposes of a trustee's clawback claims against a charitable or religious organization, if a certain threshold is met, all contributions made to the organization will be recoverable, rather than just the contributions that exceed the threshold. See Wadsworth v. Word of Life Christian Center (In re McGough), 737 F.3d 1268 (10th Cit. 2013). In the second case, the court ruled that exempt retirement funds lose their exemption immediately upon withdrawal from a retirement account. See In re Gordon, 791 F.3d 1182 (10th Cir. 2015).
B.A., Hampshire College, 1991
J.D., University of Colorado School of Law, 2000.
University of Colorado Law Review, Associate Editor, 1999-2000; Member, 1998-99
Admitted to practice in:
Colorado (2000)
United States Bankruptcy Court, District of Colorado (2000)
United States District Court, District of Colorado (2000)
United States Court of Appeals, Tenth Circuit (2008)
Colorado Bar Association (Member)
Denver Bar Association (Member)
American Bankruptcy Institute
National Association of Bankruptcy Trustees, 2009 - present
Martindale-Hubbell AV Preeminent Rating, 2015-present
Colorado Super Lawyers, 2011, 2014-present
Best Lawyers in America, 2016-present
Best Lawyers in America Lawyer of the Year – Bankruptcy Litigation, 2021